Free Online Course on Medicines Administration for Patients with Dysphagia. Starts 15th February 2021
Dysphagia: Swallowing Difficulties and Medicines
Link: https://www.futurelearn.com/courses/dysphagia
Registration for the course is now open!
The current course opened is for registration and begins on 15th February 2021
This course will enhance the knowledge of any person involved in the administration of medicines to patients with dysphagia.
The course offers an opportunity to network with other learners and with the creators of the course through discussions, graphs and social networking features and to share knowledge with other learners and professionals.
The course covers:
Definition and causes of dysphagia
How to improve medicines administration for patients with dysphagia
Supporting patients with dysphagia to take their medicines
Different medicine formulations and the important considerations for patients with dysphagia
Legal and ethical considerations when administering medicines to patients with dysphagia
Standardising the approach to reviewing medicines in patients with dysphagia
Future courses are planned for 10th May 2021 and other dates later in the year. Check back for more information on additional courses.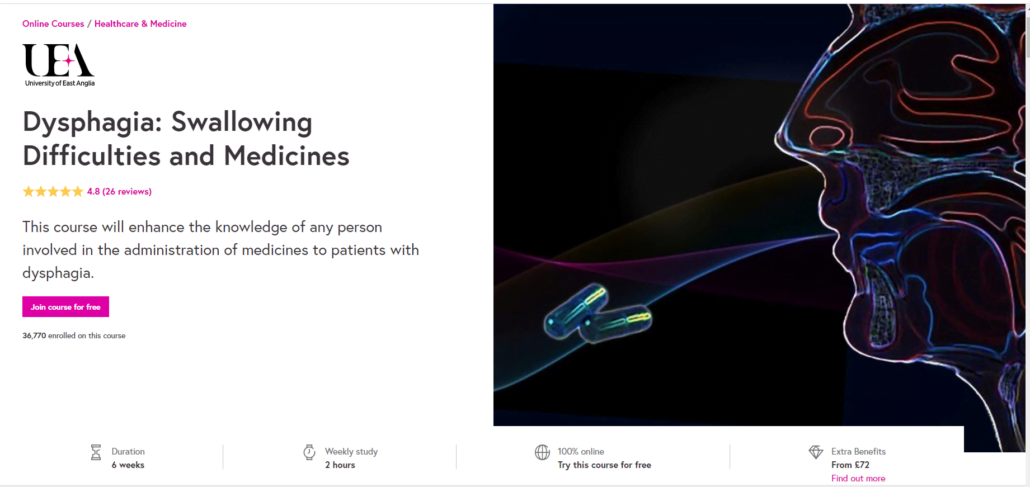 http://www.swallowingdifficulties.com/wp-content/uploads/2016/11/logo.png
0
0
Jan Flynn
http://www.swallowingdifficulties.com/wp-content/uploads/2016/11/logo.png
Jan Flynn
2021-01-19 12:46:31
2021-05-12 16:24:00
Free Online Course on Medicines Administration for Patients with Dysphagia. Starts 15th February 2021